News
Jessica Hollins' Tedx Columbus Talk
June 17, 2015
They Own Their Story - And A Blanket
MVOB featured on Dentally Speaking
May 3, 2015
Jessica sat down to talk MVOB with Dr. Kvitko on Sunday. Hear the whole interview here!
Wear blue in support of Child Abuse Prevention Month!
April 8, 2015
Mark your calendar for April 8, the 2015 Wear Blue Day! Part of Child Abuse Prevention Month, Wear Blue is a statewide social media campaign now in its fourth year. Updated materials – including a tool kit, logos, and samples from counties – are available at http://www.pcsao.org/WearBlue.htm. And be sure to "like" the Facebook page: https://www.facebook.com/WearBlueOhio.
My Very Own New Location
November 5, 2014
WESTERVILLE
In October, the local nonprofit moved from its 600-square-foot facility down the street to 175 E. Broadway Ave., the former home of the Westerville Area Resource Ministry.
The new location is 10 times larger, and Hollins said she hopes to increase production from about 7,000 blankets a year to more than 10,000.
My Very Own Blanket has donated more than 65,000 blankets to children since Hollins launched it in 1999.
WOSU Features My Very Own Blanket
August 18, 2014
WESTERVILLE
Watch the video from WOSU"s Broad & High (the exciting and original weekly magazine show) as they feature My Very Own Blanket.
104.9 The River - Inspiring Non-Profits
June 2, 2014
WESTERVILLE
Listen to the broadcast on 104.9 The River as Mary describes awesome women who launch their own non-profits.
Generations Performing Arts Center Dancers Donate Blankets
March 1, 2014
WESTERVILLE
The dancers at Generations Performing Arts Center took time off from their busy dance performance and competition schedules to make and donate 166 blankets.  Over 125 dancers, both girls and boys participated in the activity. This is the second year that the dancers have made and donated blankets to My Very Own Blanket as part of their on-going commitment to give back to the community through their dance mentoring program, the Big Sis/Lil Sis program.
Stitched together with love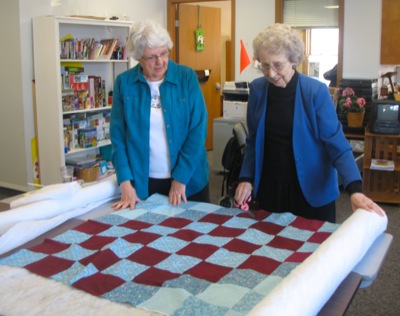 February 17, 2014
Otterbein residents have made more than 1,000 blankets
ST. MARYS - Otterbein Senior Lifestyle Choices residents are making blankets for children in foster care programs around the state. Led by project coordinator Marge Steinecker, the residents have completed more than 1,000 blankets in a variety of sizes and colors as part of the My Very Own Blanket project.Barbara Baker, a representative of the Columbus-based project and daughter of Otterbein resident Martin Fahncke, talked to prospective volunteers in 2011 about making blankets."She told us that here in Ohio, there are 10,000 to 12,000 youngsters - ranging from infants to teenagers - in foster care," Steinecker said. "Each one receives a blanket of their very own when they come into the program." (read more…)
Middle School Students Donate Blankets
January 15, 2014
The students of the National Junior Honor Society at Pleasant View Middle School took time from their busy scholastic schedules to make and donate their 20 creative blankets. With the help of MVOB, their blankets were donated directly to Franklin County Children Services (FCCS).
Their donation is timely as FCCS begins to plan for the month ahead. April is Child Abuse Prevention Month and the Pinwheels for Prevention Month Campaign begins. It's a time to bring public awareness to the issue of child abuse and encourage everyone to speak out against child abuse. Join FCCS on April 9th, by wearing blue (Wear Blue Day). Also throughout the month of  April FCCS will be planting Pinwheels in the community to further raise awareness.
Want to get your school involved? Contact V. Joetta McCruter-Polk, Communications Specialist at Franklin County Children Services by email or phone 614.341.6017.
104.9 The River - Mary & Josh Interview Jessica Hollins
July 26, 2013
WESTERVILLE
Listen to the broadcast on 104.9 The River as Mary and Josh interview Jessica Hollins.
Westerville Life
June 13, 2013
Quilts for kids warms hearts
May 2, 2012
By ANDY OURIEL
ouriel@sanduskyregister.com
SANDUSKY
Upon threading and tying the final piece of fabric into her homemade quilt, Kathy Werner experienced a warm sensation.
She already felt comfortable on this Monday afternoon, the sun shining  down on her Central Avenue home. This new warmth, however, came from knowing her soft, handcrafted quilt would soon help a child in need. Werner is among a handful of Sandusky residents sewing quilts to benefit children in foster care all across Ohio.
In most cases, foster children own very little — sometimes nothing — when they're placed into an unfamiliar home. By providing the children with a quilt, Werner and her fellow sewers ensure the kids always have something of their own, no matter where they go. "I like the idea of these children receiving a quilt," Werner said, caressing the cotton-blend creation draped across her lap. "I also like the idea, knowing that I am making something that a child will cherish for the rest of (his or her) life." (more)
Uptown Westerville is a Place Where It's Sew Simple to Help Others
MONDAY, JULY 6, 2009
My Very Own Blanket is an organization based in Westerville that provides personalized, hand-made blankets for children in foster care throughout Ohio. A blanket can travel with and stay with children, giving them a soft, stable, comforting touchstone no matter where they sleep and live. (more)
Homemade Blankets Knit Bonds With Mom, Prisoners, Foster Kids
COLUMBUS
The click of needles and the creak of a rocking chair were the comforting sounds made by a local mom for her young children: knit, purl, knit, purl—hundreds of stitches would end up connected to each other as blankets for her toddlers aged 1, 2 and 3. That was ten years ago, and when those blankets were done, Jessica Hollins wasn't ready to stop. (more)